SoftSun & Lightning Strikes Rentals • Georgia, Louisiana, Florida, North Carolina & the World
LIVE EVENTS : SPORTS AND ENTERTAINMENT
We have provided Lightning Strikes and SoftSun lighting equipment rentals to Live Sporting Events in the United States and around the world.  Among these events are five Super Bowls, several World Championship Swimming and Diving events, NHL Hockey Games and NCAA Football games.
FEATURE FILMS
SoftSun and Lightning Strikes are the industry standard for Lightning effects, Large Area Lighting, and Lighting for High Speed Photography…so much so, that they have been awarded several technical achievement awards by the Motion Picture Academy of Arts and Sciences.
TELEVISION and COMMERCIALS
Lightning Strikes and SoftSuns have been used in 100's of Television Series and Commercials. The SoftSun line of lights are becoming increasingly popular as the "workhorse" light of choice instead of using HMI's.
Our lighting equipment has been used in hundreds of productions
Whether you need lighting for a live event, a feature film, or television, we can meet your needs. We have over 20 years of experience providing specialized rental lighting to meet many needs.
VIEW SAMPLE PROJECTS...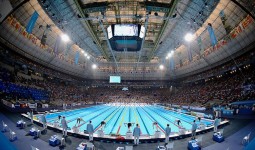 The FINA 2013 International Swimming Championships is a spectacular examp...
We feature a broad range of best-in-class lighting including SoftSun and Lightning Strikes
Attitude Specialty Lighting specializes in rental lighting for Live Event, Feature Film, Television and Commercial applications. Our experience is second to none.
VIEW OUR EQUIPMENT...